Our company launched its so called "broadcast" service in January 2016. This new line of business covers two segments of the television market. On the one hand, investments and equipment upgrades implemented by Antenna Hungária in the first six months of 2017 propelled the company to a prominent position in the market in the area of services provided by outside broadcast vans (including technical crews), while on the other hand, the company also excels in the production of complete programs, with its considerable technical and creative staff capacities, expertise and experience gained in this particular segment. Thanks to the annual volume of orders and the quality of the programs produced, Antenna Hungária is now one of the major program producers in the Hungarian market, a recognized player at an international level.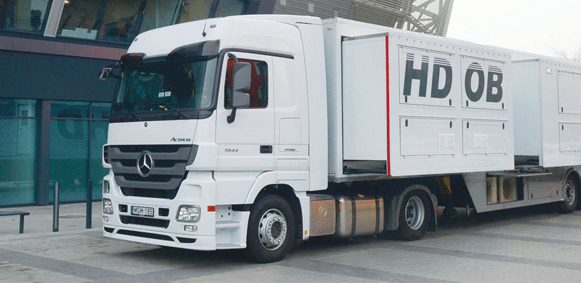 Making sure that we meet the highest professional standards, our program production service covers the entire production process (of ready-to-air programs). In television program production we work in strategic partnerships spanning a decade with other participants of the television market, relying on our upgraded technical facilities, and the expertise of our staff of broadcasting and production experts formed during the past decades.
Please do not hesitate to contact us if you wish to arrange for the live broadcasting of your events, take recordings and distribute content so created (by means of signal forwarding), and are looking for a reliable partner who can organize and carry out both technical and creative work and employ cutting edge solutions in our deliveries.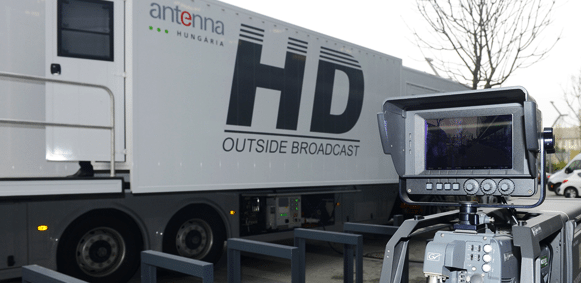 Our services include live coverage of events and programs at specific locations, through satellite links or optical networks or on-line, along with recording footage of the same ( on hard disc/HD recorders, HD XDCAM discs, HDCAM cassettes etc.). We can also deliver broadcast signals (e.g. live stream). We have unique capacities –  including HD and 4K ready broadcast equipment (mobile broadcast units, broadcast vans with up to 32 cameras – unmatched in the Hungarian market and in those of the neighbouring countries.
CHARACTERISTICS OF OUR SERVICES:
Our television production service involves the broadcasting of live programs from external partners, the recording of broadcasts and the transmission of the broadcast signal.
Using our SD and HD OB production vehicles offering unique capacities and professional equipment (up to 32 cameras) we are ready to offer you television and on-line broadcasts and the production of programs.
Antenna Hungária offers proven yet flexible production processes and implementation practices to its customers, making service delivery simple and efficient.

Years of professional competence
The quality of our service and products is guaranteed by the expertise of our production experts and system engineers who created the CDN system and monitor its operation.
In addition to television program production, Antenna Hungária offers a number of services that are not available from any other service providers. We are open to developing new solutions too.
In program production, live broadcasts, and signal transmission, Antenna Hungária has several decades of experience and sole responsibility, which guarantees the quality of service during the entire process of service delivery.

Instantly available service
Our staff and facilities are ready for the implementation of a given service – it is not necessary to establish and ramp up the entire service, purchase equipment, make investments, train professionals, etc.
We use 12 HD and 4K-enabled broadcast vans been designed and assembled in Hungary, and continue to extend our fleet as the market demands it.  Thanks to experience gained in outside broadcasting our engineers took the current highest technical standards into account when they designed comfortable and functional work stations for the broadcast vans to be built.
We are constantly upgrading our equipment, using state-of-the-art television devices and technologies in order to deliver outside broadcasts of suitable quality to our customers. Our services are characterized by flexibility and mobility: each of our broadcast vans can be easily adapted to the customer's needs, and we can readily create any configurations at request.
We plan to record or broadcast more than 1,200 sports and cultural events – football, futsal, ice hockey, basketball, handball, water-polo, boxing, and horse racing events, musical programs, conferences, etc.– this year, using our digital and Full HD broadcast vans.
MTVA
· The matches of the OTP League
· The matches of the national football team
· Basketball, handball and water-polo matches
· National Holiday events
· 31st LEN European Aquatics Championship 2012, Debrecen
· New Year Concert from the Opera House, 2013
· Re-opening of the Vigadó Concert Hall, 2014
· Formula 1 Hungarian Grand Prix, 2014, 2015, 2016, 2017
· EHF EURO 2014 Women's Handball Championship 2014
· 'MAGYARORSZÁG, szeretlek' contest (Hungary, I love you), 2016, 2017
· The 'Ridikül' program series, 2016, 2017
· The 'Virtuózok' talent show, 2016, 2017
· MÜPA Budapest MR2 symphonic/acoustic concerts, 2016, 2017
· The 'Bagi-Nacsa' show, 2016, 2017
· Fábry Show, 2016,2017
· Nagy Futam, 2016, 2017, Budapest
· 2016 World Junior Figure Skating Championship, Debrecen
· 2016 World Synchronized Skating Championship, Budapest
· 2016 World Table Tennis Championship, Budapest
· ITTF World Tour, 2017
· Religious programs (masses, religious services)
· Rhythmic Gymnastics European Championships, May 2017, Budapest
· European Junior Swimming Championships, July 2016, Hódmezővásárhely
· FINA Marathon Swim World Series 2016, Balatonfüred
· Kayak, canoe, dragon boat, etc. races
· The Flower Carnival, Debrecen
· Beach Handball World Championships, July 2016
· EMF miniEURO 2016, Székesfehérvár
· WTCC
· Petőfi Music Award Gala 2016, 2017
· Gyulai István Memorial Athletic Grand Prix 2016, 2017
· "A Dal" (The Song)
· Water-polo LEN Final Six 2016, 2017, Budapest
· Davis Cup Tennis, 2016, 2017, Budapest
Sports TV channels (AMC Network, formerly Chello Central Europe)
· Matches of the Hungarian Ice Hockey Championship
· Matches of the Slovakian Ice Hockey Championship, 2010-2013
· Matches of the Hungarian League Cup and Hungarian Cup
· Futsal, water-polo, volleyball and beach volleyball, basketball and handball matches in Hungary and Slovakia
· Opening of Groupama Aréna, 2014
· The KHL (Kontinental Hockey League) 2012-2017
· The matches of the Champions Hockey League 2014-2017
· International hockey, handball and water-polo championships, 2015-2017
· Handball EHF Final, 2015, 2016, 2017, Budapest
· Military Horse Race of Alag, 2016, 2017
· Hungarian Snooker Gala, 2017
· Bellator Budapest Events, 2017
· K1
Eurosport
· Matches of the Hungarian Ice Hockey Championship
· UEFA European Under-17 Championship 2011, Serbia
· UEFA European Under-19 Championship 2011, Romania
· UEFA Futsal Euro 2012, Croatia
· UEFA Women's Under-19 Champions League, Final, 2012, Germany
· UEFA European Under-19 Championship 2014, Hungary
· UEFA European Under-19 Championship 2015, Greece
· UEFA Futsal Euro 2016, Serbia
· UEFA European Under-19 Championship 2016, Germany
ORF
· Austrian Handball League, Finals, 2015
· Celebration of the 60th Anniversary of Austria's Independence, live broadcast, 2015
Viasat
· EHF FINAL4 women's handball matches, 2015 Budapest
Nippon TV
· Wrestling World Championships, 2013, 2016, Budapest
TV2 (IKO Műsorgyártó Kft.)
· Kismenők, 2016
Eurovision Production Coordination (EPC), BP2017 Nonprofit Kft.
· 17th FINA World Aquatic Championship, Budapest, Balatonfüred
· FINA World Masters Championship, Budapest, Balatonfüred
· World Masters Championship
Other events
· Concerts of the Győr Philharmonic Orchestra between 2012 and 2016
· Ákos concerts, 2012-2016
· Koncz Zsuzsa concert, 2014
· "Az ének iskolája" talent show, 2014-2015
· Miss Universe Hungary Beauty Pageant, 2014 and 2015
· AUDI ISU Short Track Speed Skating World Cup, 2017
· Suzuki Judo World Championship, 2017
· EYOF, 2017
· Hungaroring Classic, 2017, Mogyoród/Hungaroring
2018. ANTENNA HUNGÁRIA ZRT.